Bach Sonatas for Viola da Gamba (and some Marais)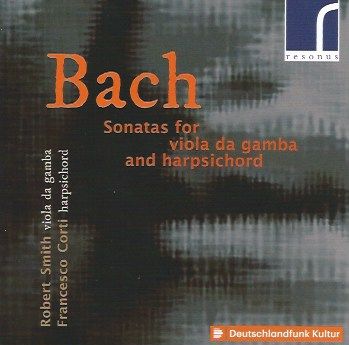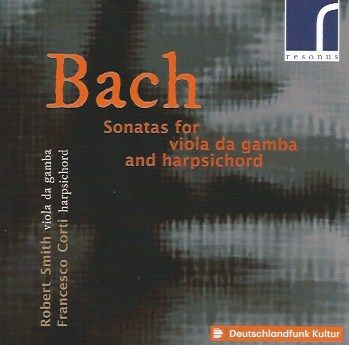 Robert Smith specialises in Baroque cello and viola da gamba. I enjoyed his contribution to the group Concerto Delaborde in France in 2019, and to La Gazette Musicale in a fabulous performance of Boccherini as part of the same Baroque Itinéraire 2017 Festival (review).  Today we're focusing on Smith's most recent disc to come my way, the Bach Sonatas for viola da gamba and harpsichord on Resonus Classics; but we'll also refer to a disc of music by Marin Marais for good measure. Both discs come recormmended.
Here, Amsterdam-based Smith is joined by Italian harpsichordist Francesco Corti to present four examples of the "cembalo-obbligato" sonata, a form that peaked in the middle 18th century in which the harpshichord takes on a new independence. The three Bach Sonatas sit with a piece by Robert Smith himself, for solo viola da gamba, Dido's Torment (of which more later) and a fabulous sonata for viola da gamba by Christopher Schaffrath (c. 1710-1768), the latter very much in the "cembalo-obbligato mould. Click on the Spotify links below for the Adagio to hear the exporatory nature of the music here; and the finale, to hear that sparklingly independent harpsichord.
The three-movement Sonata in G minor, BWV 1029 seems to reference concerto form in its clear fast-slow-fast format. Listen to the dance-like nature of the music and the deliightful interchanges between Smith and Corti in the first movement, or the remarkably expressibe Adagioin the Spotify examples below, or the sprightly Allegro here, taken from studio sessions (you can hear an interchange between the players at the beginning)
The D major Sonata, BWV 1028 opens with a slow movement of cantabile, high beauty; it seems more of the gallant style than the others here (so the counterpoint tends to be less strict). Of the Bach Sonatas, only the G major, BWV 1027, exists in autograph manuscript; it is an arrangement of Bach's own Trio Sonata, BWV 1039. Here we have the model of a sonata da chiesa (Church Sonata), with movements arranges in the pattern of slow-fast-slow-fast. Heres the wonderful fugal Allegro ma non tanto second movement (YouTube, and the booklet notes, all call this Allegro ma non tanto, as do the scores I have seen but for some reason the track listing calls it "Allegro ma non troppo"):
Here is Smith's own explanation of how Dido's Torment came about, and what it is:
I made the composition for the radio4.nl show, "De Muziekfabriek". On the show they have a really cool item called Vrij Spel, (which means free-kick, or free-play) where you take a well know classical hit and make your own version of it.
... and here's Smith's unforgettable reaction to the well-known "Dido's Lament "("When I am laid in earth") from Dido and Aeneas:
I'd just like to also mention Smith's exemplary disc of the music of Marin Marais (1656-1728). If you followed the link above to the 2019 Baroque Itinéraire, and scrolled down, you would have found my report on "Moi, Marais!: Life and Music of the greatest violist of the 17th century".  In what will almost certainly be the subject of a future, post, Robert Smith gives similarly exemplary performances of Marais in his Resonus disc La Gracieuse. For the moment listen to the joyous Gigue "La Chicane" from the Suite in G Major (and for once, a Gigue that doesn't conclude a Suite; this particular Suite ends with a fugue!):