Andreas Haefliger plays Ravel, Bartók and Ammann
Stimulating programming from Haefliger for this trio of delights!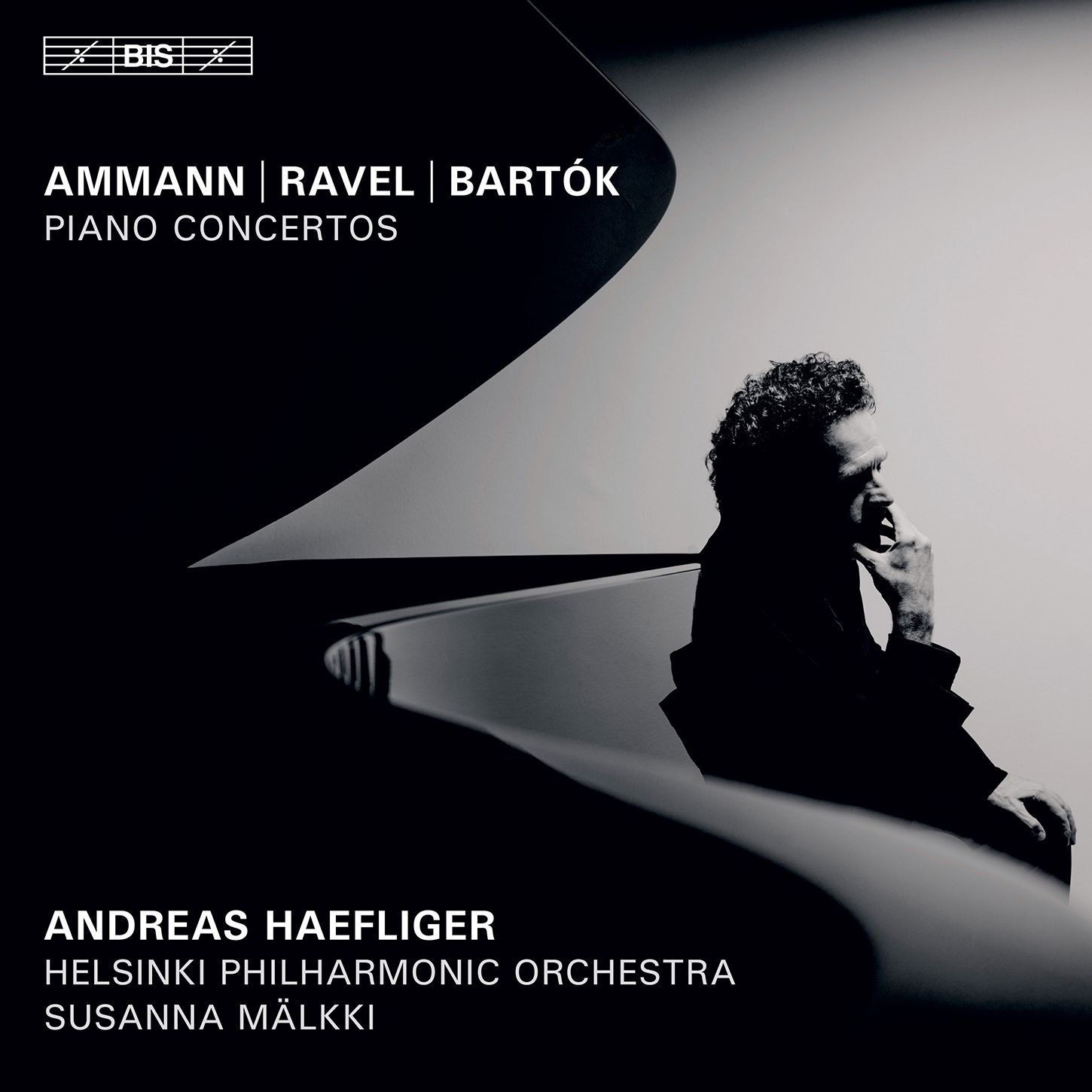 The pianist Andreas Haefliger, in recorded circles, is famous for a succession of discs entitled Perepectives in which the carefully considered juxtaposition of pieces allows programmes to illuminate music in new ways. His most recent volume has just been released on BIS: the seventh volume which has the giants of Beethoven's PIano Sonata  No. 28 in A, Op. 101 and Mussorgsky's Pictures at an Exhibition rubbing shoulders with Berg's op. 1 Piano Sonata and Liszt's First Légende - an interview with Andreas Haefliger and myself will appear in the next issue of International Piano).
Co-commissioned by BBC Radio 3, the Boston Symphony Orchestra, Konzerthaus Wien, Lucerne Festival, Münchner Philharmoniker, and Taipei Symphony Orchestra,  The Piano Concerto (Gran Toccata) by Dieter Ammann (born 1962) was written over a three year period (2016-19) especially for Haefliger. It is fascinating in how Ammann uses the piano as percussion instriment, and it is often tied to the "kitchen'" department of the orchestra (the percussion, in other words!) with which the piano is allied here.
There are three movements, performed continuously. Moments of calm offer relief in a piece which asks for much virtuosity from the performer. The actual sound is modernist, but not hard-hittingly so.It is exciting, though, and clearly well scored (either that or Mälkki is a genius with textures - could be both, of course!). Here's the first movement in the BIS recording (itself live, taken from two performances in Helsinki in November 2019), but read on for an alternative, despite this being a recording World Premiere!:


... and here, to complement the BIS  recording , is the World Premiere performance of the Ammann by Haefliger with the BBC Symphony Orchestra under Susanna Mälkki, at the Proms in 2019 (August 19, some three months earlier):
Ammann's music is hypnotic, his music easy to acclimatise to, and  individual. Interestingly, the finale, after all that active virtuosity, ends quietly and remarkably beautifully:
Ravel's Concerto for the Left-Hand was written for Paul Wittgenstein. Haefliger sees this disc as an adjunct to his Perspectives series (only this time with orchetsra). Somehow after the Ammann, we hear the modernism of Ravel's concerto all the more (it contains what Haefliger calls "grotesquely fauvistic dances" and is full of  "dark yearning"). The performance here has power aplenty, but also superme delicacy, as in the gentle habanera-like theme. This is one of the finrst performances in the catalogue. Here's the Lento:
This performance is a modern reference point for this remarkable work, along with Bavouzet on Chandos; the energy of the finale glorious.
Finally, Bartók's Third Piano Concerto in a beautifully-shaped performance. This is Bartók's lightest piano concerto: the First is full of pounding energy punctuated with the composer's characteristic Night Music; the Second poses Everest-like challenges to the soloist. The Third is more Neo-Classical in demeaour, and Haefliger and Mälkki deliver deliciously light textures in the first movement:
This is one of the finest Bartók 3's, with a finale that begins in Bartók's pounding, energetic mode but soon finds that lightness again; the second movement, marked Adagio religioso, is a sustained, beautiful prayer wth a wonderful, phantasmagoric section that not only takes us to other worlds but also attests to what a wonderful piano Haefliger is using - the extreme high notes are prefectly tuned (and placed:it's a Steinway model D). The finale, below, dances infectiously:
My reference for Bartók's piece remains Annie Fischer (currently on EMI), while Hélène Grimaud with Boulez in modern times offers as fine a performance as one is likely to hear. But Haefliger offers a fine alternative, held within a brilliant programme. Plus, one should remember that this is the only available recording of the Ammann!.
Andreas Haflinger plays Ammann, Ravel & Bartók