A Tale of Two Emilias: Janacek's "The Makropulos Case"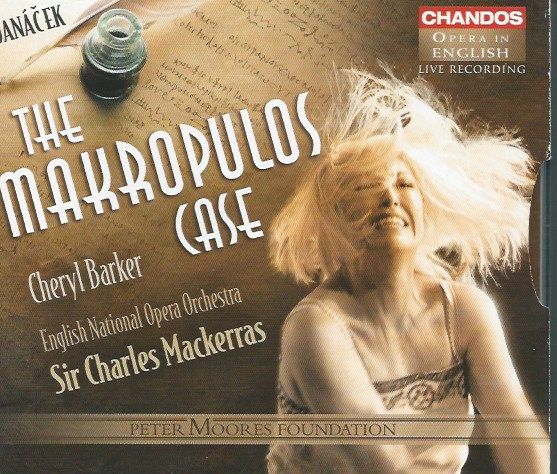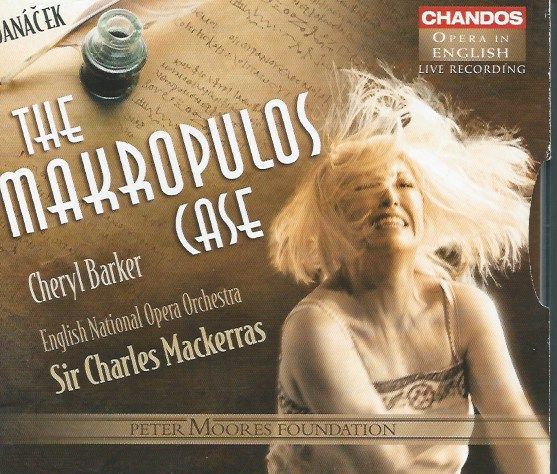 Leoš Janáček's opera Věc Makropulos (The Makropulos Case), after a comedy by Karel Čapek, has a rather fantastical idea at its core: the protagonist, Emilia Marty, has lived for some 337 years; her various names have always had the intials "E.M.". She has this preternatural longevity due to a potion her father, Heironymous Marty, made for the Emperor Rudolf II, who tried it out on his daughter, Elina. After a time in a coma, Elina awoke to a life that just stretched on ... and on ...
There are certainly comedic elements here, but Janáček's music has real depth as well as more challenging elements. Suffused with his characteristic repetitions (derived from teh very sound ofthe Czech language), the score certainly has its more modernist moments. Today we're looking at how two very different conductors worked with that soundworld: the Finnish conductor Esa-Pekka Salonen, himself a justifiably respected composer, and Sir Charles Mackerras, a conductor drenched in Czech music of all periods. I chose the Chandos  partially to have one version today in Czech, the other in English, and partially because I attended an unforgettable performance of the run at the London Coliseum around the time the recording was made.
First, to the Salonen, staged by Christoph Marthaler, who adds silent (albeit subtitled) elements to the beginning of the acts, conversations within a glass case.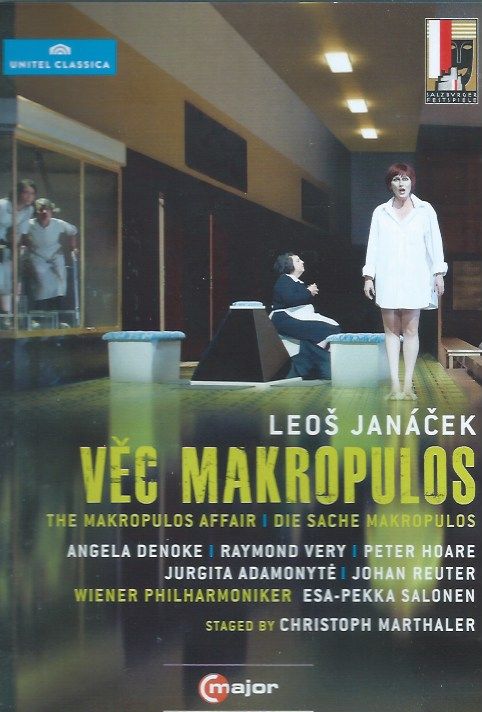 Here is a brief introduction:
... and here, interviews with cast members:
Salonen inspires the Vienna Philharmonic Orchestra to absolute heights (there is no doubt it is more secure than the English National Opera Orchestra), directing the VPO with supreme confidence. Sometimes, it feels like Salonen is like a Boulez with emotion: the same X-ray way with scores, and yet how he can allow melodies to soar in a most un-Boulezlike way (they are often given to the orchestra in Makropulos, and the VPO takes full advantage; try the strings in Gregor's declarations of love for Emilia in the second act). In this performance, Angela Denoke takes on Emilia Marty and is triumphant: her final scenes in particular, where the copmoser puts the character fimly in the spotlight, are transfixing. But in a fine casy (British readers will recognise Peter Hoare in there as Vítek) it is the Krista of Lithuanian mezzo Jurgita Adamonytė  that is a career-defining event: a magnificent actress as well as singer.
Albert Gregor is Emilia Marty's great-great-great-great-great-great-great-great grandson and is well sung by Raymond Very; a Jochen and a Johan (Schmeckenbecher and Reuter) make for a fine Doctor Kolonatý and Jaroslav Prus respectively.
The staging was somewhat controversial, not least the shows that preceded the acts themselves. The main body of the stage is taken up by a courtroom; another boxed off space to the right of the stage shows hot-house plants. Against this, Salonen and his singers work their magic. The various strands, put together, lead to an emotionally draining experience.
Sir Charles' reading of the piece (no staging here, of course) has a human warmth that Salonen deliberately eschews. In inviting in this aspect, he reveals the score are more multifaceted, broader in terms of reference, moving from modernist to the more traditionally lyrical. Cheryl Barker is a superb Emilia Marty, her stamina remarkable, and there are many familiar names from ENO present. Neal Davies is a strong Kolonatý, but it is Mackerras' marshalling of his forces that makes this such an appealing prospect. He raises ENO's orchestra's game far beyond their norm, something that was notable at the performances, also.
The recording on the Chandos, too, is more present, with glorious orchestral detail everywhere.
Ideally, then, own both. Maybe even supplement it with Mackerras' Czech-language Makropulos.