A Gem of a Concert Venue in London: a concert at the Fidelio Café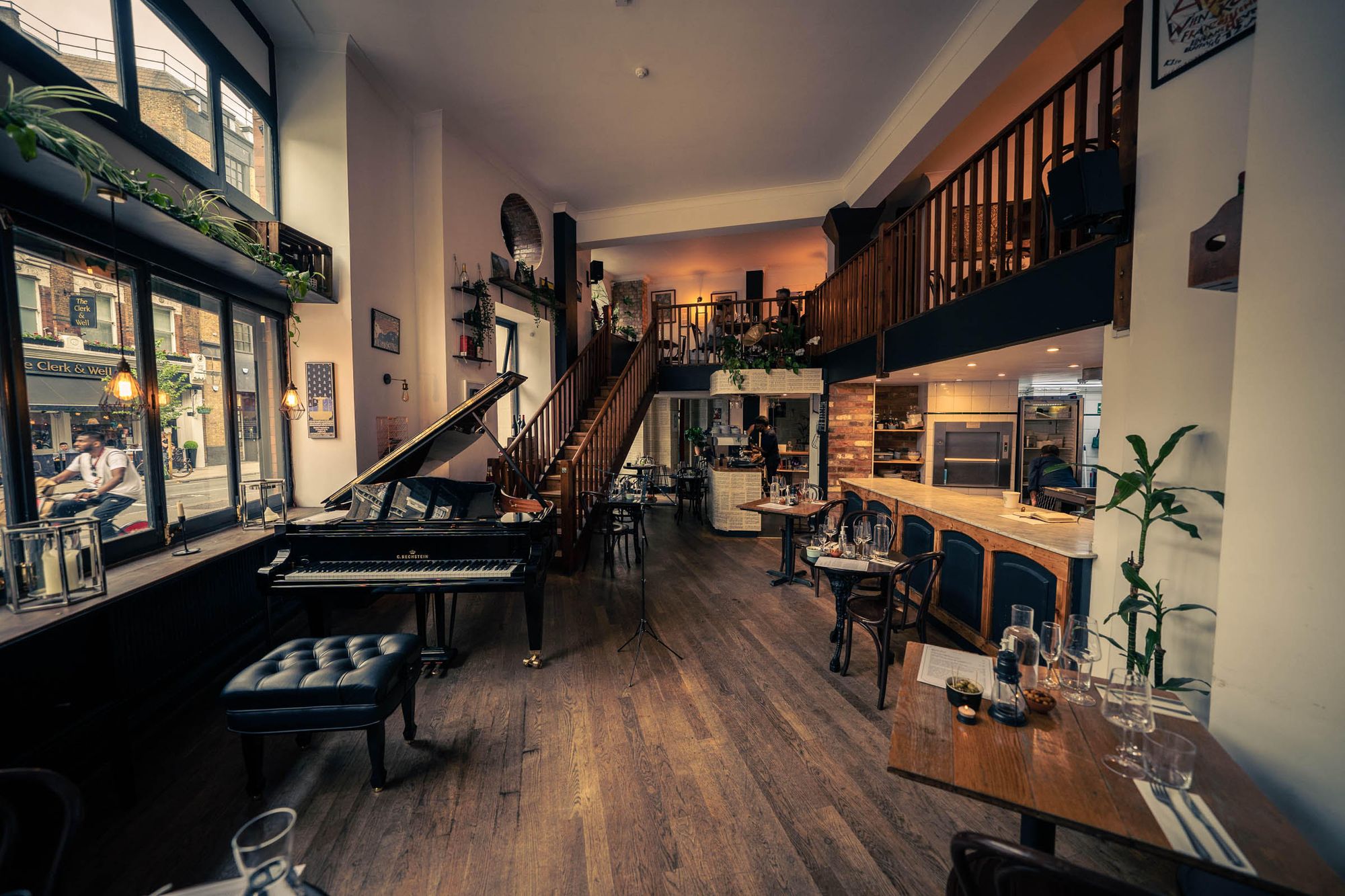 The Fidelio Café, if you haven't already discovered it, is a gem of a venue set in Clerkenwell, between Chancery Lane and Farringdon. Informal concerts happen regularly, fine music with known names offering beautiful programmes in a laid-back space. The informal setting is deliberate - the audience is closer than usual to the artists. The results are often magical, and the layout lends the performances a rare sense of the intimate.
As they were on Wednesday night (October 18), when violinist Esther Abrami and guitarist Alexandra Whittingham gave a programme of music for violin and guitar (with solos for each), part of the Up Close and Musical series.
This was, pardon the pun, what was on the menu:
Astor Piazzolla - Café 1930
Heitor Villa-Lobos - Preludes 1, 3 & 5
Edith Piaf (arr. Roland Dyens) - Hymne a 'l'amour
Roland Dyens - Tango en Skai
Toshio Masuda - Naruto, Alone Theme
Pyotr Ilyich Tchaikovsky - Valse sentimentale
Dmitri Shostakovich - Romance from The Gadfly
Anne Dudley - Chasing Rainbows
Shigeru Umebayashi - Yumeji's Theme from In the Mood for Love
Rachel Portman - Chocolat
Amy Beach - Romance
Astor Piazzolla - Libertango
You can see how the programme was a huge mix. A particular stand out was Whittington's phenomenal account of several Preludes by Heitor Villa-Lobos, a composer much under-rated. While his Bachianas brasileiras have attained some fame (particularly No. 5: link to a performance by Victoria de ls Angeles), there is so much more to explore, including some notable symphonies (the recordings on cpo are excellent). These Preludes revealed that extended to chamber music, too. Luckily, there is a YouTube video here, not from Fidelio Café, alas. Here's Prelude No. 1:
and here is the markedly more imaginative video for No. 3:
---
Esther Abrami is a fine and characterful violinist (and something of a social media sensation, by all accounts), and together the two do indeed make beautiful music. Frankly, it takes a lot to persuade me about the music of Astor Piazzolla and Abrami and Whittingham somehow managed it, for the duration of Café 1930 at least. Again, luckily there is a video available:
You can't beat a bit of Edith Piaf, and her Hymne à l'amour is a classic. Although it is fair to say no-one does it like Edith:
... but the arrangement fitted the evening perfectly.
Convivial, easy-on-the-ear but certainly not simplistic music, this was a finely chosen selection. Good to have some Tchaikovsky, too. Abrami's disc Cinéma (linked below on Amazon) features several of the items we heard including Tchaikovsky's Valse sentimental, Op. 51/6, despatched with great character in the phrasing. Here, it was heard with piano; on the disc it is the full-fat cinematographic experience:
Another favourite is Shostakovich's "Romance" from The Gadfly, delicious as borscht, and beautifully expansive on the disc (the orchestra, by the way, is the City of Prague Philharmonic):
Wonderful, too, to hear some Amy Beach, a composer whose works are finally gaining traction (more, in my experience at least, in the recorded arena so really good to hear some live!).
A fabulously life-enhancing concert in a beautiful, convivial venue.
You can find a previous review of a concert from Fidelio Café here.